In these delicate times, Modi govt should ensure bonhomie in Indo-Nepal relationship
Press Release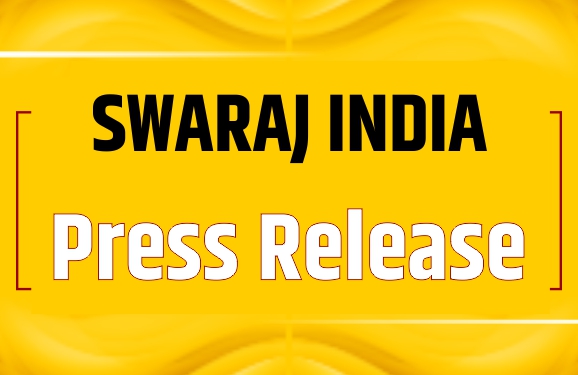 Press Release
Swaraj India
25 May 2020
In these delicate times, Modi govt should ensure bonhomie in Indo-Nepal relationship
• Continuous dialogue and cooperation between India Nepal in the larger interest of Asia, the himalayan region and both the countries
• The bitterness in relationship even with our close neighbours & friendly countries is a massive failure of our foreign policy
• To save the unique friendship with Nepal, Modi govt should accept Nepal's request for a dialogue on border confusion
• Chinese interventions in Nepal must not be allowed to weaken the age-old bond between the people of India and Nepal
• Stop using old dispute with Nepal to distract the country during the pandemic
It is a matter of deep concern for the citizens of both the countries that India and Nepal have published contradictory maps of the Kalapani area. At a time when China is trying to create tensions at LAC in Laddakh area, a rift between India and Nepal should be resolved at the earliest.
Given the geopolitical dimensions of this controversy, Swaraj India believes that both the countries should initiate a constructive dialogue through topmost diplomatic channels to maintain the unique bond and historic relationship between Indian and Nepal.
The Indo-Nepal relationship is not just a matter of foreign policy between two countries. The very foundation of this relationship goes beyond geography and politics, and is based on shared cultural bonding, economic ties and a historic struggle for democracy. Although there is incomparability of size and population, common citizens of both the countries face similar challenges like poverty, illiteracy, unemployment and environmental management. Even after interventions of world powers and a 1800 kilometer long shared border, the arrangement of free movement of citizens of both the countries is a model to emulate for any country in the world. Chinese interventions in Nepal must not be allowed to weaken the age-old bond between the people of India and Nepal
It is in the larger interest of not just both the countries, but also the Himalayan region as well as Asia to maintain a continuos dialogue and cooperation between India and Nepal.
The controversy on 400 sq kilometer area at the triangle of Kalapani-Limpiyadhura-Lipulekhla is not new. Because of the originating point of Mahakali river, the Kailash Manasarovar Pilgrimage and the meeting point of the autonomous regions of India-Nepal-Tibet, this area becomes important for India, Nepal as well as China. Efforts to resolve this controversy has been going on since long. In this context, the 1816 Sugauli pact during British Raj was taken forward by the "Joint Technical Level Nepal-India Boundary Committee" set up in 1981 and the 1996 Mahakali Pact, which ensured a constructive continuity in Indo-Nepal dialogue. In recent past, some border issues including Kalapani and Kosi water management questions too have brought bitterness in relationship. The worrying trend is that the recent bitterness is being viewed as an expansionist attitude of India in a section of Nepalese politics, while a section in our own country wants to tag Nepal as a pawn of Chinese diplomacy.
In the backdrop of such developments, it becomes imperative to initiate constructive dialogue through topmost diplomatic channels after maps were published by India on 2nd November 2019 and a contradictory one by Nepal on 18th May 2020. Government of India will have to initiate these dialogues. Like many other issues concerning Indo-Nepal relationship, this too has a lot to do with the internal political equation of Nepal. It is concerning to hear the public statement from Prime Minister K P Oli that India is using power instead of truth in the border dispute. The statement by Nepalese foreign minister that India has been continuously ignoring their protest-letters raises further concern. Being a big country, it is India's responsibility to resolve the dispute amicably and through peaceful diplomatic channels. But instead of such steps we see provocative statements made from India. The allegation by army chief of Nepal acting at the behest of China is unwarranted and unbecoming of us. The lack of vision and an incoherent foreign policy has resulted in bitterness even with our neighbours and traditional allies. It is because of such attitude that our friendship with Srilanka and Bhutan has weakened and they have gone closer to China. The irresponsible statements made during citizenship controversy needlessly created tension with Bangladesh. And now this rift with Nepal practically means to do away with another friend and ally. The unnecessary disputes, tension and rift with our neighboring countries will be seen as a massive failure of our foreign policy. Modi govt should know that any new distraction in the name of border tensions with Nepal will not be accepted by people at a time when the country is fighting a pandemic.
Swaraj India demands the Modi government to immediately accept Nepal's request of dialogue on border dispute and save the unique Indo-Nepal relationship from mistrust and doubts on each others intentions. It will also help India start the completion of the dangerous open ended disputes in our Himalayan policy. We request the leadership of both the countries to initiate top level dialogue on priority basis without delay. We also appeal to the well-wishers and organisations of India and Nepal to play a constrictive role in the bridging of our historic ties.
Swaraj India
Media Cell
Contact: Ashutosh – 99991 50812