INDIA STANDS UNITED AGAINST CHINESE AGGRESSION
Press Release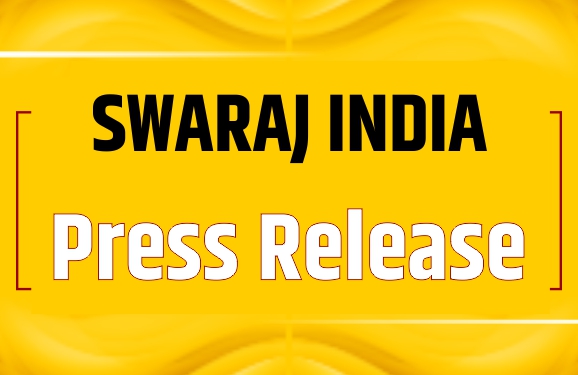 Swaraj India
Press Releases
17th June 2020
INDIA STANDS UNITED AGAINST CHINESE AGGRESSION
The nation is stunned and anguished by the demise of our brave soldiers in the Galwan valley on the Eastern Laddakh front. We salute their supreme sacrifice in defending the nation's frontiers. We pay our homage to these martyrs who have laid down their lives in defending the honour of our motherland.
The nation is outraged by the wanton use of force by the Chinese army in its treacherous attempt at shifting the Line of Actual Control, and that too in the midst of a global pandemic. India shall not accept this act of aggression that violates international laws as well as previous bilateral agreements between the two countries. In this hour of grave crisis, all Indians stand behind our armed forces in defence of our territorial integrity.
The nation recalls the unanimous resolution adopted by our parliament on 14 November 1962 expressing "the firm resolve of the Indian people to drive out the aggressor from the sacred soil of India, however long and hard the struggle may be". We are one with our government in fulfilling that resolve. No one can break the unity of the people of India in its diversity.
The nation faces an unprecedented crisis on the health and economic front, made more challenging by this external aggression. It looks to the Prime Minister to cement national unity by taking the leadership of all political parties into confidence about the ground situation and sharing with them the constraints and concerns of the battlefield. He must also keep all divisive and diversionary forces under check. The nation wants honest answers to simple questions: Was the Line of Actual Control allowed to be breached? Who was responsible for that? Why did our brave soldiers have to sacrifice their lives? How we are going to face the Chinese aggression? As elected leader of a democratic nation, he carries the responsibility of answering these questions and listening to the collective counsel across the spectrum before deciding upon the appropriate course of action. The nation stands with him in any action that addresses the security, health and economic crises.
The present crisis has rekindled a spirit of sacrifice and dedication among the people. Swaraj India is steeped in this national spirit and its volunteers are ready to rise to the occasion and respond to any call to perform any duty required for securing the well-being of India and Indians. We are and shall always remain one in our love for our motherland. Together, we shall overcome.
Jai Hind !
Media cell/ 9999150812