SWARAJ INDIA LAUNCHES MASS MOVEMENT OF MAIZE FARMERS OF BENGAL FOR MSP
Press Release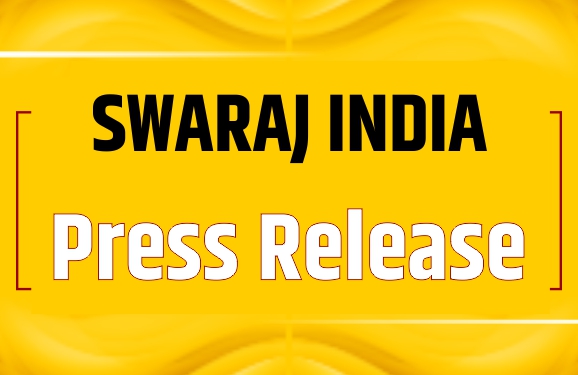 Swaraj India
Press Release
1st July, 2020
SWARAJ INDIA LAUNCHES MASS MOVEMENT OF MAIZE FARMERS OF BENGAL FOR MSP
It is shocking how the Central & Bengal Govt. have left the maize farmers at the mercy of unscrupulous traders who are fleecing them; farmers have to rise, raise their voice against this injustice and not rest till they receive MSP for every grain of maize: Yogendra Yadav, National President, Swaraj India
Swaraj India's farmers wing, Jai Kisan Andolan is on ground surveying thousands of farmers in North Bengal and preparing them for a long haul mass movement; there is steely determination in the farmers and the Govt. will not be able to get away with this back-stabbing of farmers: Avik Saha, National Convenor, Jai Kisan Andolan
Delhi, 1st July, 2020: The Central Govt. announced MSP of Rs.1760/quintal for maize, acknowledging that if farmers sell below this price they will suffer losses. The Bengal Govt. has continuously encouraged maize cultivation in North Bengal and made grand announcements of increasing output by 33% in two years. As a result of this twin encouragement of price and policy, there has been in huge increase of maize cultivation during rabi season in North Bengal, with North Dinajpur district being the largest centre of cultivation.
But now, after farmers have harvested their crop, they have been left in the lurch and are not getting proper price, primarily because:
1. North Dinajpur district does not have one regulated market where a farmer can take his crops for sale at MSP;
2. Neither the Central Govt. nor the State Govt. have opened any purchase centres for maize where farmers can sell their crop; and
3. The Central Govt. has not enforced Price Support Scheme mechanism for maize.
Taking advantage of the neglect and absence of governments, fly-by-night operators are forcing farmers to sell maize at Rs.1000/quintal, which is a little more half the MSP promised to farmers. The Govt. has compelled the farmers to become helpless victims of these unscrupulous traders. Swaraj India has already written to the Prime Minister, Union Agriculture Minister, Union Agriculture Secretary, Chief Minister of Bengal, Bengal Agriculture Minister, Bengal Agriculture Secretary and all 3 MPS and 7 MLAs of North Dinajpur, informing them about the crisis and requesting them to take immediate remedial action. Unfortunately, not only has no action been taken, even the letters have not been acknowledged.
In the meanwhile, volunteers of Swaraj India have already carried out door-to-door survey of about about 500 farmers in villages Madhapur, Khurka, Coochbari, Koilara, Maheshpur, Bhawanipur, Khidkibasti, Bhariyadangi, Amurdangi, Telengadangi etc, within gram panchayats Roshkhowa 1, Roshkhowa 2 and Domna of Karandighi Block and villages Moroltoli, Dhepa, Muktabhita, Porabhita, Gernabari East, Gernabari West, Adivasipara, Rajbaripara, Gorgoch Chowk etc. within gram panchayats Jaigaon and Dharampur of Goalpokhar I Block. The survey has revealed that not one farmer has received MSP for maize crop sold and in the absence of regulated market and government purchase centres, farmers have been compelled to sell their crops to unscrupulous traders at rock bottom prices. This loss suffered by farmers has made their already vulnerable financial condition even more precarious and they have slipped into a death trap that has seen the ongoing terrible cycle of farmers suicides.
In this background, Swaraj India has launched Bhutta MSP Recovery Andolan and farmers:
1. Have written thousands of letters to the Prime Minister, Chief Minister, District Magistrate and BDOs;
2. Have decided to start peaceful and democratic agitation at the office of local BDOs, if no remedy is received.
Farmers have made up their mind that they will struggle and ensure that they receive MSP for every grain of maize crop.
Media Cell
Swaraj India
Contact: Ashutosh – 99991 50812