MOST AAP KERALA OFFICE BEARERS AND MEMBERS JOIN SWARAJ INDIA FOR ESTABLISHING ALTERNATIVE POLITICS
Press Release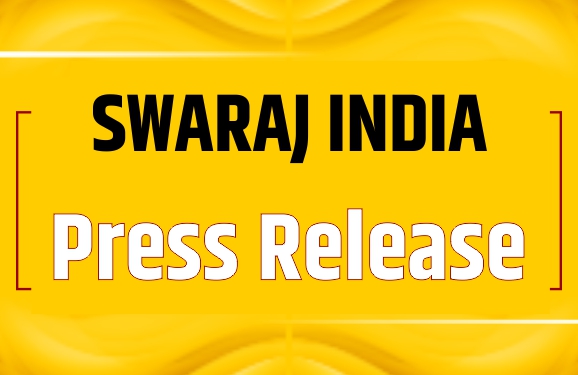 Swaraj India
Press Release
23rd June, 2020
MOST AAP KERALA OFFICE BEARERS AND MEMBERS JOIN SWARAJ INDIA FOR ESTABLISHING ALTERNATIVE POLITICS
~ People of Kerala have long felt the need to challenge the LDF-UDF binary of Kerala Politics; this development gives rise to a new progressive, secular and ecologically sensitive alternative in the State; I warmly welcome my ex colleagues into the folds of Swaraj India: Yogendra Yadav, National President, Swaraj India
Delhi, 23rd June, 2020: 77 office bearers of the democratically elected State Coordination Committee and about 700 volunteers of Aam Aadmi Party's Kerala unit have resigned from the primary membership of the party and joined Swaraj India en masse. Among those who resigned from AAP and joined Swaraj India are the former Convener of State Coordination Committee, 19 out of 21 members of the Executive and 56 members of the Council as well as 12 District Conveners. Prominent among those who joined Swaraj India include State Coordination Committee Convener Glavious T Alexander, Co-Conveners Adv. Thomas Kotturan, Anil Kumar Mooledam, Mrs. Meena Chandran, Secretaries Saleem Kunnathunad, Mrs Anitha Bharathi, Moosa Jarathinkal and Treasurer Hareendran. Many Delhi based leaders from Kerala including Niju Thomas (Vice-President, AAP South Indian Cell Delhi), Mobin V.M. (President, Chandnichowk Loksabha AAP South Indian Cell) and Dr. Antony Thomas (President, North Delhi Loksabha AAP South Indian Cell) also left AAP to join Swaraj India.
A joint statement issued by the former leadership of AAP Kerala titled "Why We Resigned From AAP" is attached to this Press Release. Salient points of the statement are:
~ At no point of time did AAP attempt to be force of alternative politics in Kerala; in fact, alternative politics was dramatically avoided in Kerala
~ The focus of AAP was to maintain certain political equations with other prominent parties in power in Kerala and not serve the people of Kerala
~ Inner party democracy was destroyed through coercion – State Convener forced to resign, all 14 district committees, 140 assembly level committees, 98% local body level committees were dissolved and no elected committee at any level was reconstituted
~ National leadership of AAP deliberately crippled the party in Kerala and did great disservice to right of people to enjoy benefit of alternative politics
~ The mass resignations were to renew all out efforts to create much needed space for really positive people-oriented pure alternate politics in Kerala
Welcoming the former AAP leaders and volunteers into Swaraj India, Yogendra Yadav, National President of Swaraj India said: " People of Kerala have long felt the need to challenge the LDF-UDF binary of Kerala Politics; this development gives rise to a new progressive, secular and ecologically sensitive alternative in the State; I warmly welcome my ex colleagues into the folds of Swaraj India. I am confident that with so many energetic and committed political activists joining the Swaraj India team of Kerala, we would be able to relate to the needs and aspirations of the people of Kerala."
The Swaraj India Kerala team will soon meet to elect state and district level committees and commence ground level activities in line with the vision of Swaraj India.
Media Cell
Swaraj India
Contact: Ashutosh – 99991 50812